Simón Bolívar and also colloquially as El Libertador was a Venezuelan military and political leader who absolved from the Spanish Empire what are currently the states of Venezuela, Bolivia, Colombia, Ecuador, Peru and Panama. 
On 6 August 1825, at the Congress of Upper Peru, the "Republic of Bolivia" was created. Bolívar is thus one of the few people that have country named after him.
Architect Elisabetta Andreoli  and artist Ligia D'Andrea's book "Andean Architecture of Bolivia", which focuses on the work of Freddy Mamani– ex-bricklayer turned engineer and constructor- has become the excuse to talk about everything else related to the highland country of Bolivia. 
There are 70 Mamani Cholet creations in El Alto (cholet is a portmanteau of the words chalet and cholo — meaning indigenous person).
Mamani has designed buildings in Peru and Brazil, and a corner of the new museum Evo Morales built in his own honor in his native village of Orinoca.
Mamani will also complete his first hotel in El Alto in 2020. In the meantime, travelers can stay in at a B&B in an imitation Mamani building, Cholet Havana.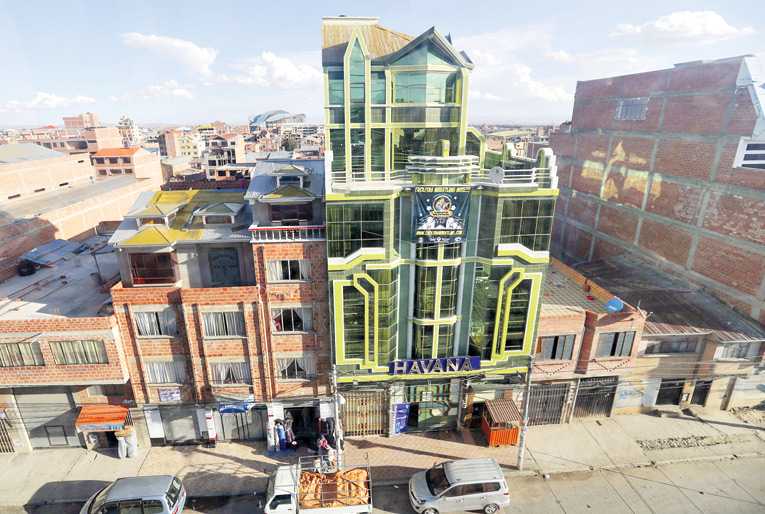 El Alto Bolivia's second city, home to the highest international airport in South America (and fifth-highest in the world) at 4,061 meters, it is a place visitors fly into before being whisked to La Paz, the de facto capital, 15 km away and 421 meters lower.
El Alto is emerging from the shadow of its neighbour, thanks to its fantastic rebel architecture, new cable car routes, emerging culinary credentials and the trailblazing input of its first female mayor, Soledad Chapeton.
In the last ten years, La Paz has transformed. Incredible economic growth and a government keen to overturn centuries of colonialism, inequality and exclusion, have led to the emergence of an 'Aymara Bourgeoisie'- people of indigenous or mestizo descent who have made their money in the vast informal markets of El Alto and La Paz. There is an important debate about terminology – some claim that the terms 'chola bourgeoisie', 'proto-bourgeoisie', or 'wealthy popular class' would be more appropriate, depending on the salience given to tradition, ethnic and class identity, or rurality/urbanity.
There is no doubt however that the Aymara Bourgeoisie have transformed La Paz, creating architecture, fashion and patterns of mobility that challenge not only the status quo in the city, but some of the central tenets of critical urban theory.
POLLERA women with their hair in traditional Tullmas hats fight it out LUCHA LIBRE style