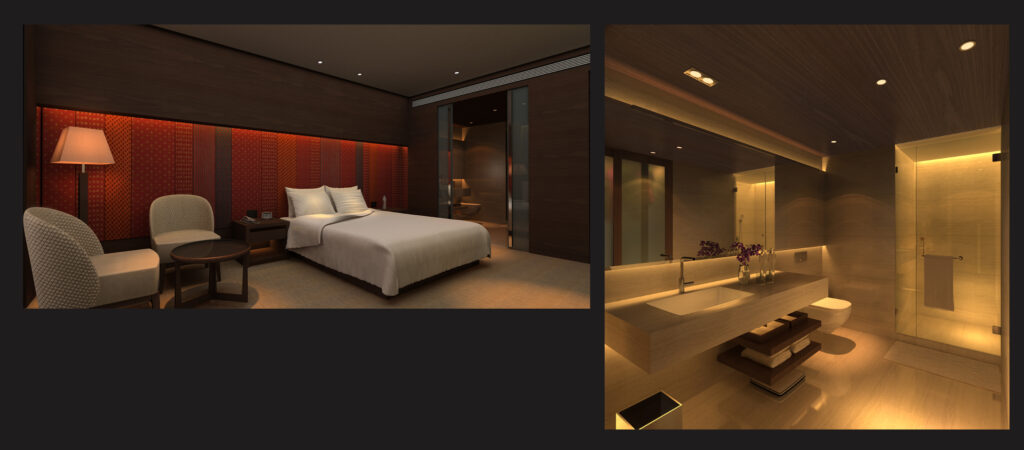 OVERVIEW
The Lalit Hotel is a design hotel. This means that it belongs to the genre of what we Architects would call the "Experience Economy ".
The starting point of the design discussion was to discover and define a set of aesthetic features that are intrinsic to Gujarat and its cultural landscape.
Embracing the metaphor of the traditional 'jali' pattern leading to the restaurant area, which marks the separation between the everyday world and the relaxing zone, this design celebrates the sense of renewal associated with the tradition.
Entered from the Hotel lobby, the design is conceived as a transitional journey inviting the user to live within the moment, by awakening their senses through a strategic introduction of luxury marble materiality and natural lighting. This is achieved over 3 key zones –Lobby, restaurant, and coffee shop area.
Design Concept
Design wall pattern- Dynamically modulated origami walls control the bounce of lights and manifest oriental imagery to create an aesthetic statement. Theatrical lighting on modulated walls reconfigure the spatial layout
Key Facts
Scope: Concept design, schematic, 3D model, detail design
Status: under construction
Team: Marijana Beric, Sagar Ragathi, Sujata Laghori, Zia Shaikh ;
Designed at Urban Studio India (2014) year