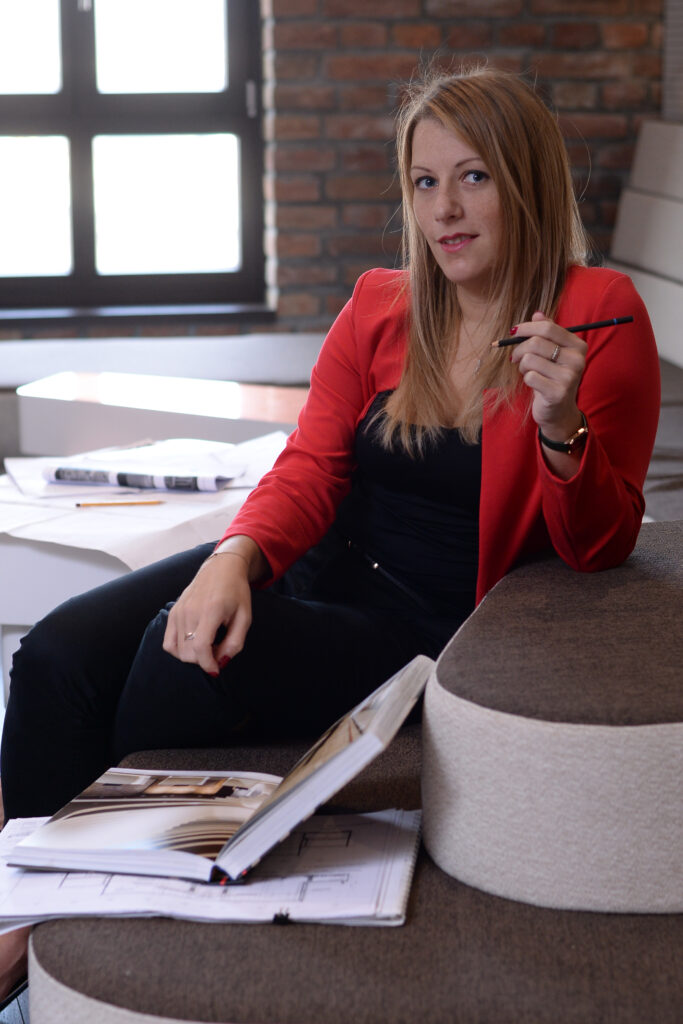 تأسست MB استشارات في عام 2019 من قبل المهندسة المعمارية ماريانا بريتش ، ومقرها في دبي ، الإمارات العربية المتحدة.
المكتب متخصص في التصميم المعماري والتصميم الداخلي والتطوير الحضري بنطاق جغرافي واسع ، بما في ذلك أوروبا وآسيا والشرق الأوسط.
يتمتع فريق العمل بمهارة في التصميم المستدام وتصميم نماذج المعلومات (BIM) ArchiCAD و Revit وتطوير التصميم والتوثيق وتنسيق الاستشارات والإدارة وتخطيط الموارد والاتصالات.
عن ماريانا
ماريانا بريك حصلت على درجة الماجستير في (M.Arch) من كلية الهندسة في بلغراد عام 2008. من عام 2010 إلى عام 2012 ، حضرت ماريانا برنامج درجة الدراسات العليا في جامعة UPC- جامعة كاتالونيا ، برشلونة ، إسبانيا ، مع تركيزها على الإدارة الحضرية والهندسة المعمارية.
تشمل خبرتها في مجال العمارة السكنية ومشروع بناء سكني معاصر في أثينا (اليونان) ، حصلت على جائزة التصميم في منافسة كبيرة متعددة الجنسيات، ومؤخراً ، تصميم مبنى سكني في دبي (منطقة الميدان ، الشيخ محمد بن راشد آل مدينة مكتوم) التي تستلزم كل من التصميم الخارجي والداخلي لتجارة التجزئة ، ردهة الدخول / الاستقبال ، 4 طوابق تتكون من 54 شقة ، ومناطق الترفيه / الترفيه.
مجمع بوليفارد للمباني السكنية في الشارقة ، + 9 طوابق ، 195 شقة (جزء من تطوير مطور أرادا) مع إشراك اللمسات المعاصرة كنهج للتصميم.
MB Consultancy is Founded in 2019 year by Architect Marijana Beric, based in Dubai ,UAE.
The office is  specialized in architectural, interior design and urban development with wide geographical scope, including Europe, Asia, and the Middle East.
Team is skilled in Sustainable design, Building Information Modeling (BIM) ArchiCAD, Revit, Design Development, Documentation, Consultant Coordination, Management, Resources Planning, Communication.
ABOUT
Marijana Beric gain Master degree (M.Arch.) from the Belgrade Faculty of Architecture in 2008. From 2010 to 2012 Marijana attended the Postgraduate degree program at UPC-University of Cataluña, Barcelona, Spain, with her focus on Urban management and Architecture.
Her experience in residential architecture includes a contemporary residential building project in Athens (Greece), resulting from an awarded design in a highly contested multinational process, and, more recently, design of a residential building in Dubai (Meydan area, Sheikh Mohammed Bin Rashid Al Maktoum city) which entailed both exterior and interior design of retail, entrance lobby / reception, 4 Floors consisting of 54 apartments, and entertainment/leisure areas.
Boulevard Residential Buildings complex in Sharjah, G+9 floors, 195 apartments (part of Arada developer's development) with engaging contemporary touches as an approach to design.
Her work on Garden Majlis (Nad Al Shiba Area, Dubai) was shortlisted for the Residential project of the year, 2017 Middle East Architect Award.
Finally, her experience includes urban and landscape competition design work on several projects in Spain and Italy – Caldetes d'Estrac landscape design (awarded 1st prize from Government of Barcelona), Collserola Park (competition finalist on the 2nd phase) in Barcelona, Spain and Wine yard re-development in Solicchiata, Catania, Italy.
Also, Landscape design projects Cental Hub- Precinct and Sales Center at ALJADA Development project in Sharjah, UAE collaboration with ZAHA HADID Architects, London, UK.
In terms of hospitality architecture, most notably, she was in charge of the full scope of work on the Sea Princess Hotel in Mumbai, India, including initial concept, refinement of design details through an iterative process with the client, project team leadership, and full project management of the construction work.
In addition, her portfolio includes Le Meridian Hotel (Ahmedabad, India), a project marked by innovative organic sustainable approach to building design, Le Rottiserie Restaurant (Palm Jumeirah Island, Dubai), Andalusian Restaurant (Jebel Ali Recreation Zone, Dubai), where she was in leading positions and charge of concept development, detailed design, and client relationship management.