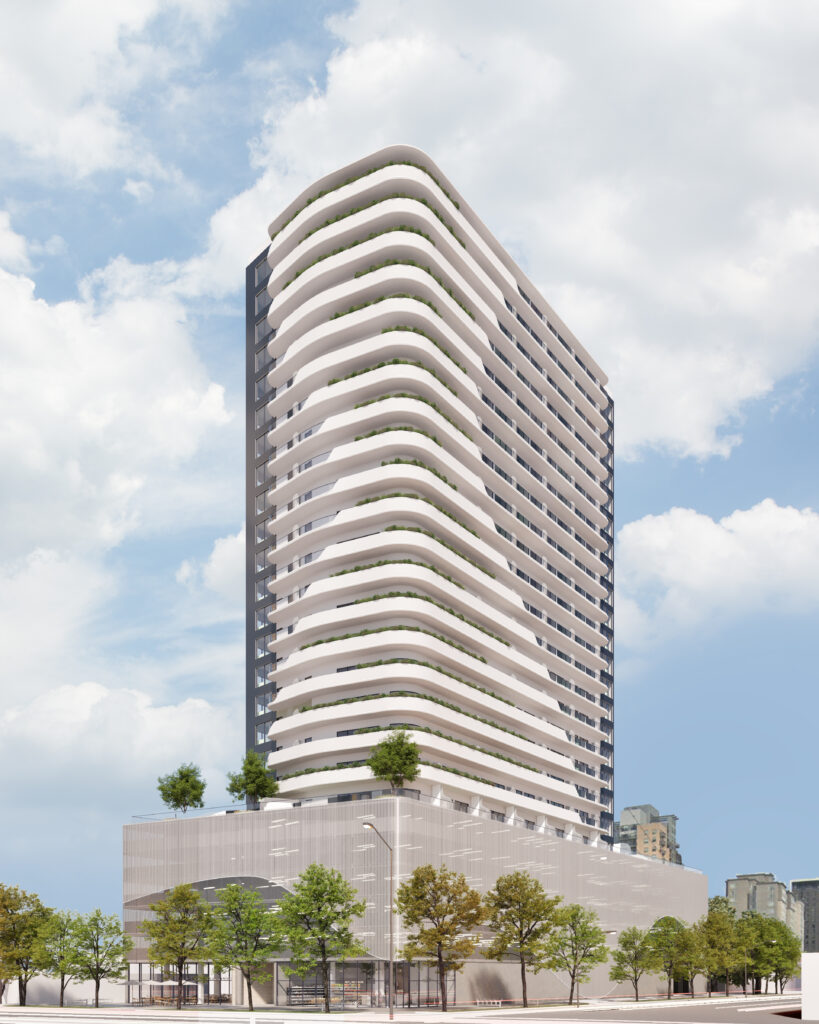 Mixed-use Commercial Building, 25 floors, Concept& Schematic design, Waterloo, Ontario, Canada.
The 20 University Building is an elegant, contemporary building perfectly nestled adjacent to a surrounding
area of the city of Waterloo. The design intent was to create a place of hospitality, entertainment, relaxation, and reflection; an informal, modern annex that complements the "formal" surrounding area.
The mane waves design element of the façade together with the podium, covered with the mesh pattern which flows like a waterfall from the cliff, come together seamlessly creating a powerful experience of the movement.
The amenity area at the podium level acts as an open, playful gathering zone enabling the occupiers of the building to enjoy a tranquil ebb and flow from the apartments out to a landscaped garden.
Project name: Residential mixed-use building, Waterloo, Ontario, Canada.
Municipality rules& regulations: Waterloo, Ontario, CA.
Gross lot area: 3,623.572 m²
Building area: 2,310.401 m²
Total no. of units: 260
Building height: 80.5m
Podium height: 19m( parking space)
Story: 25
Landscape open space: 20%
Apartment units: 1BHK, 50-54sqmt
Scope: Concept, Schematic design, landscape& interior design
Model: Revit BIM& 3dmax&In-design, Illustrator
Date: Avg.2021
Team: MB Consultancy UAE
Client: Prica developments.